Here is a showcase of the recent project that was successfully accomplished for awareness about Gharial Conservation.
The National Chambal Sanctuary, also called the National Chambal Gharial Wildlife Sanctuary, is a 5,400 sq km (2,100 sq mi) tri-state protected area in northern India for the critically endangered Gharial (Gavialis gangeticus), also known as the gavial, the red-crowned roof turtle and the endangered Ganges river dolphin. Located on the Chambal River near the tripoint of Rajasthan, Madhya Pradesh and Uttar Pradesh, it was first declared in Madhya Pradesh in 1978 and now constitutes a long narrow Eco-reserve co-administered by the three states. Within the sanctuary the pristine Chambal River cuts through mazes of ravines and hills with many sandy beaches.
This place is very remote and the tribal villages surrounding the river needed to be education about the value of flora and fauna around them. The locals have very strong beliefs about various Folklore and Myths about the animals of the Chambal Sanctuary that have been passed by generations. These myths had a negative impact on the conservation of the flora and fauna of the Chambal Sanctuary.
Some of the common myths consisted of:
Gharials are released here by the British people to keep the tribal away!
The Sanctuary is a private property of the British where they farm Gharials!
Snake bites can be cured by singing mantras and dusting of holy powder!
Gharials need to be killed as they are harmful to mankind!
The Chambal river is said to have originated from the blood of cows sacrificed by an Ayran King, thus everything associated with it is "unholy"! (This myth in turn also helped in a certain way to keep the people away from the habitat)
Below are some interesting things from the project.
To start with, a small story was developed about a traveler who stops for a night in the Chambal village and in his dream he encounters a personified Gharial character. They discuss and explain all the various Folklore and Myths, along with explaining all the problems faced by the Chambal River and its Fauna.
The above book was developed for the locals of chambal valley,
below are some images of the other book that was developed with more technical and statistical information for the forest department team of the National Chambal Sanctuary.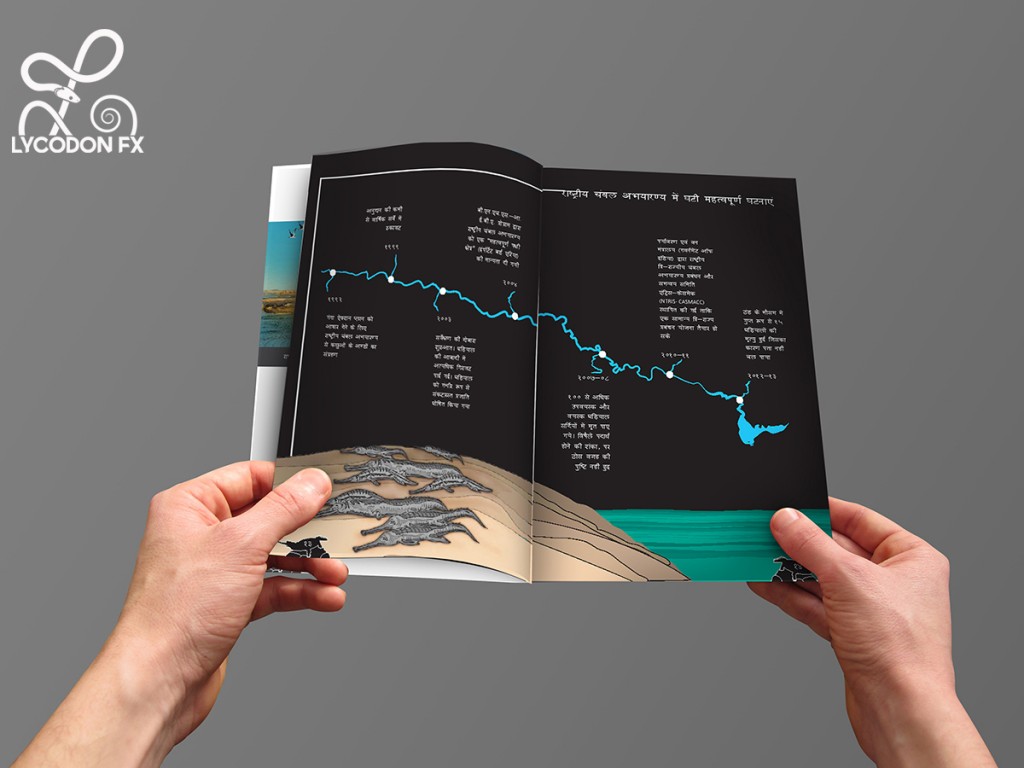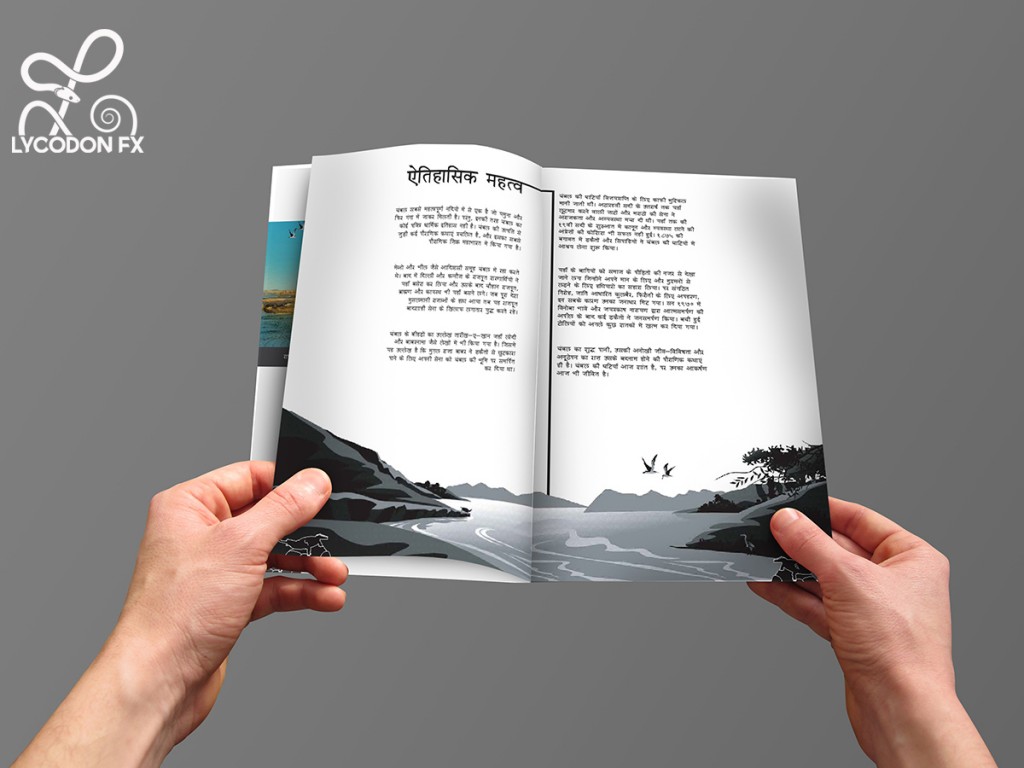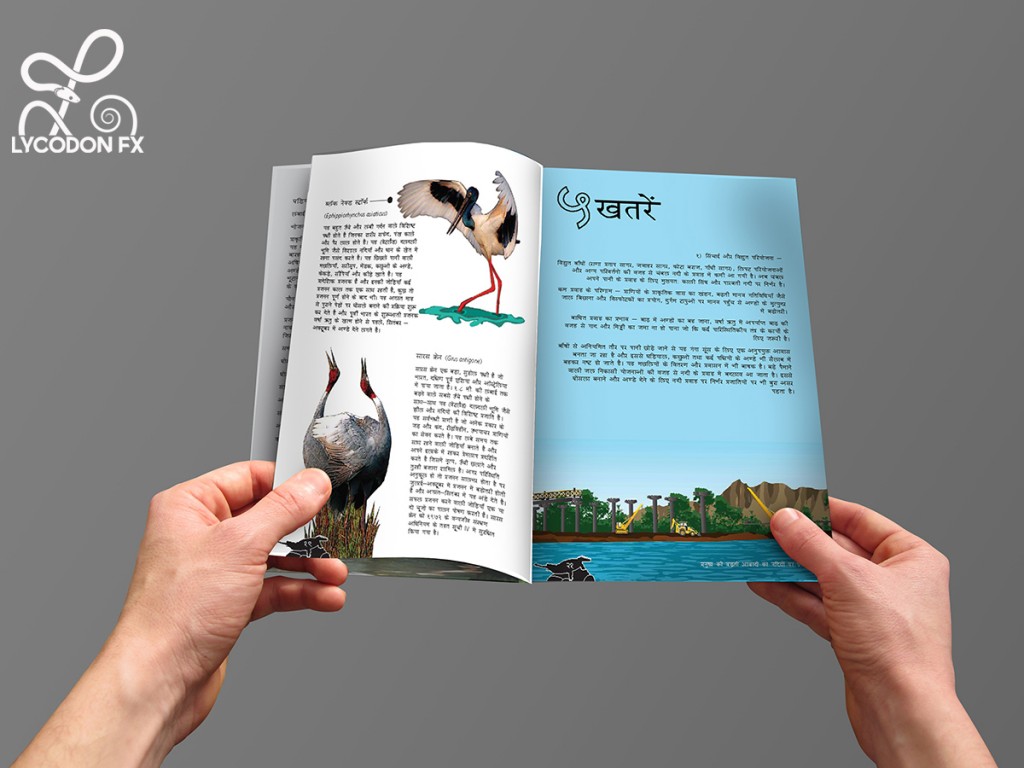 Special thanks to Madras Crocodile Bank Trust & Gharial Conservation Alliance for granting LycodonFX the opportunity to work on this fun yet important project.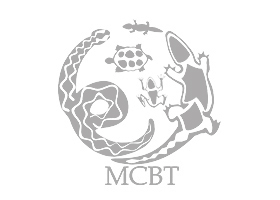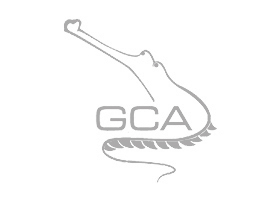 Lycodonfx pvt. Ltd. | www.lycodonfx.com